** DUE TO THE RECENT STORM IN YOUR AREA **
CASTLE ROCK RESTORATION IS OPEN FOR BUSINESS!!
We are an essential business here to serve you!!
Your Storm Damage Specialist.
Experienced, professional, and with you every step of the way.
Did you know...
...that in most cases wind and hail damage can't be seen from the ground? Whether it's granular loss from hail, or tabs loosened by high winds, either of these can ultimately cause a huge out-of-pocket expense if not handled properly. Hail and wind damage is constituted as "an insurable loss." Your insurance company is legally obligated to repair your roof to the condition it was in previous to the loss. In most cases, the end result is a new roof, siding and gutters. It must, however, meet proper requirements set forth by your carrier.

Free, no-obligation damage inspection.
Castle Rock Restoration will provide you with an honest evaluation of your property with no strings attached. If damage is present, Castle Rock Restoration will guide you step by step through the claim process. We deal with the insurance company and all subsequent repairs that need to be completed. Hassle free to you, and most importantly, NO cost to you other than possibly your deductible. We have brick-and-mortar offices and showrooms in Elkhorn, Wisconsin, and Peoria and West Dundee, Illinois. In addition, we also have satellite offices in Indianapolis and Springfield, Illinois.

A quality reputation.
We are an accredited BBB company with an "A" rating with all applicable licenses and insurance in place. Castle Rock Restoration is well informed and up to date on all procedures and policies that insurance carriers have in place. Honesty and integrity is our top priority.
"They were very friendly, quick, and it was a great experience. Their price and professional approach really stood out."
J.R.
"They inspected my roof, met with my insurance adjuster, and completed the job in record time. I highly recommend Castle Rock Restoration!"
M.C.
"I would HIGHLY recommend Castle Rock. Overall, I would give them an "A" rating for quality work from start to finish."
S.D.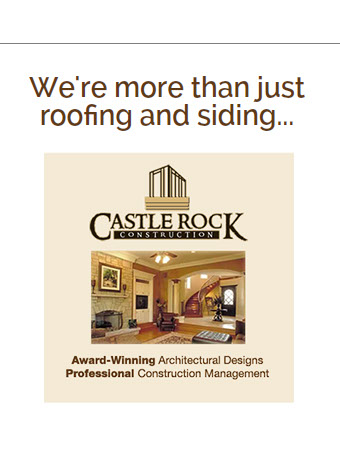 Castle Rock Restoration    101 Evergreen Parkway, Suite 4 | Elkhorn, WI 53121 | (262) 723-5555 | Fax: (262) 723-5585
©2020 Castle Rock Restoration. All rights reserved.